I had no expectations going into this race, except to have a fun day on the trails. Well, I did have a fabulous day, but I'm glad I went it without expectations because nothing could have prepared me for the adventure to come!
Short Version
Miles: 6.3 (shortened from 7.25)
Water stops: 2
Beer stops: 1
Number of Mount Penn ascents: 3
Number of times I fell: 5 or 6
Number of times I ALMOST fell:  1,000
Overall Place: 148/340
Age Group Place: 6th (Females 29 and under)
Run it again? Hell yes!
Long Version
One of the best parts of this race was the 11 AM start time. This made it much easier for me to say yes to a third margarita the night before (it was National Margarita Day, after all.) I arrived at the Reading Liederkranz (German club) about 35 minutes before the race start, and as I was parking I noticed that almost everyone milling around was wearing long running tights. I scoffed at these runners and felt like a badass while proudly donning shorts (my trusty Oiselle Rogas). The temperature was above 40 degrees for the first time in months, what were these clowns thinking?
I soon realized that although it was warm enough for shorts, there was still at least a foot of snow on the grassy areas and trails on Mount Penn. In Philadelphia, ALL the snow had melted already from the rain and warm weather of the weekend. Having realized my grave error in wearing shorts, I ran back to my car and slipped on a pair of compression socks that I had thrown in at the last minute. I would be thankful for those later.  I also decided NOT to bring my phone to take photos which was another wise decision.
After walking about a 1/2 mile to the start, the race director, Ron Horn (Pretzel City Sports), gave us the pre-race talk. He mentioned that these were "the worst conditions they'd ever had" and that they ended up cutting the course about a mile short due to the conditions. After that, we were off!
The first mile or so was very frustrating. Even though I thought I placed myself in a good position at the start, I still ended up in a very slow conga line. The snow was so deep that the leaders had to forge a single track trail in the snow, which ended up clogging the whole race. Eventually I just started passing people on the side which was difficult since I had to forge another "trail" in the snow, but it was still less frustrating than the conga line.
After what felt like 2 miles (I did not wear a watch) we reached Reading Pagoda, which sits on the top of Mount Penn. This was definitely one of the more memorable parts of the course, so I slowed down a bit to take in the gorgeous view.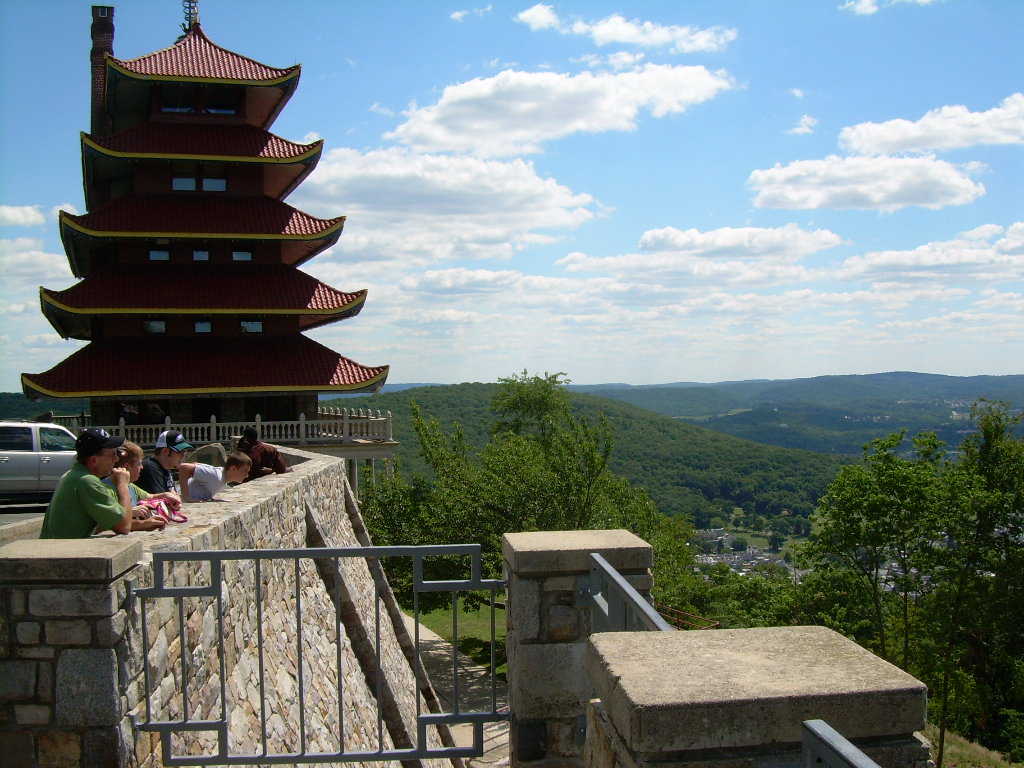 Shortly after that, we descended Mount Penn and almost immediately turned back up to climb it again. This would be the longest of three ascents in the course, and was also the point when I REALLY regretted my shoe decision. I wore my road running shoes instead of my crappy old trail shoes, which needed to be replaced months ago. My feet slipped on every step up the mountain, making it feel ten times harder than a normal climb.
I decided early on to bomb the downhills where possible, instead of trying to slowly slide down like many. It proved to be effective, though I did fall on my butt a couple times without getting hurt. The snow was slushy and slippery simultaneously due to the above freezing temperatures, and I definitely wished I had a snowboard instead of running shoes at a few points.  I saw several splashes of blood in the snow along  the second half of the course, proving not everyone made it out unscathed!
There were 2 water stops along the course, and one "alternative beverage" stop that served cold, German beer. The beer stop popped up about a half mile from the finish, and gave me the boost that I needed to finish strong. In true trail race fashion, the finish was up a small, but steep hill.
I crossed the finish in 1:26, and was shocked how long it took me to run 6.3 miles. I was comforted by the fact that the winner finished in 1:11, proving even the fastest runners had trouble with this course.
Afterwards, I changed and went inside for a German beer and some food. I must say that the food was not very appetizing but the German dunkel was delicious.
Before awards,  a fun, folky band performed pop and rock covers on a mini stage, which was a really nice way to recover from the race. The race shirt was awesome too!
Though I couldn't take any photos on the course, I was lucky enough to stumble upon a video of the race! Catch me in the first 10 seconds of the video below, wearing a purple Oiselle lux long sleeve, blue roga shorts, and pink compression socks.  Enjoy!
*Don't forget to enter my Back on My Feet 5 Miler race bib giveaway by next Friday, 3/7!   [Enter here]